Study of carbonation and combined chemical corrosion of cement composites caused by the effect of geothermal water
In applications, where cementitious materials are exposed to elevated CO2 concentrations, such as wells for oil and gas operations, it is needed to design carbonation-resistant cements. Carbonation/carbonic corrosion takes place simultaneously with hydration reactions of clinker phases and in the case of blended cements also with pozzolanic and/or latent hydraulic reactions. Progress of carbonation depends on many factors including material composition, water to binder ratio, CO2 concentration, temperature, and others. Depending on the carbonation extent, it does not only have to increase the strength of cement-based materials by refinement of pore structure but, on the contrary, can also weaken the structure and increase the permeability of the material. Detailed knowledge of processes occurring under special conditions is necessary also for designing materials for carbon dioxide sequestration.
Investigation of carbonation and combined chemical corrosion includes:
• study of the degradation reactions from early stages of cement binder hydration,
• evaluation of carbonic corrosion in the cement composites in dependence on their composition,
• comparison of the effects of temperature, pressure, and geothermal water composition on the carbonic corrosion of different cement composites compositions,
• determination of carbonic corrosion effect on the development of pore structure and mechanical properties in different stages of cement binder's hydration,
• study of carbonic corrosion in lightweight cement composites
• comparison between natural, accelerated carbonation, and carbonic corrosion in the selected systems.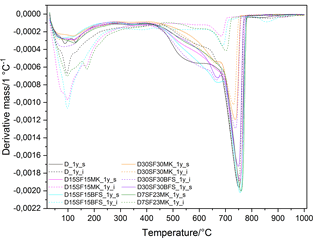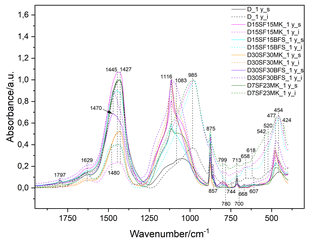 Fig.1. DTG curves (left) and MIR spectra of the samples cured at CO2 chamber (right).